Character Before Competence
Best CBSE and IB international school
Choosing the right intl school is one of the most important decisions that you as a parent can take in your child's life. From the first step to leaving school with confidence and competence of an intellectually stimulating career – Silver Oaks International school Visakhapatnam can make all the difference.
Fee Structure
Enquire Now
Our Story @ Visakhapatnam
Building the future with intention and innovation at Visakhapatnam
Visakhapatnam is a rapidly growing city in India and Andhra Pradesh, and with that growth comes the need for quality education. The city has become home to some of the best international schools in the country, providing students with world-class educational opportunities.Silver Oaks International School is one such school that stands out from the crowd.
Silver Oaks International School at Vizag is a continuously growing ecosystem of learning and development. Our inside-out approach to learning builds knowledge and new age skills whilst building the core of each child. For 5+ years, we have been nurturing both character and competence with our innovative pedagogy, research-led indigenous curriculum and the best combination of IB (International Curriculum) and CBSE (Central Board of Secondary Education) education. We are grooming lifelong learners, passionate innovators and responsible global citizens.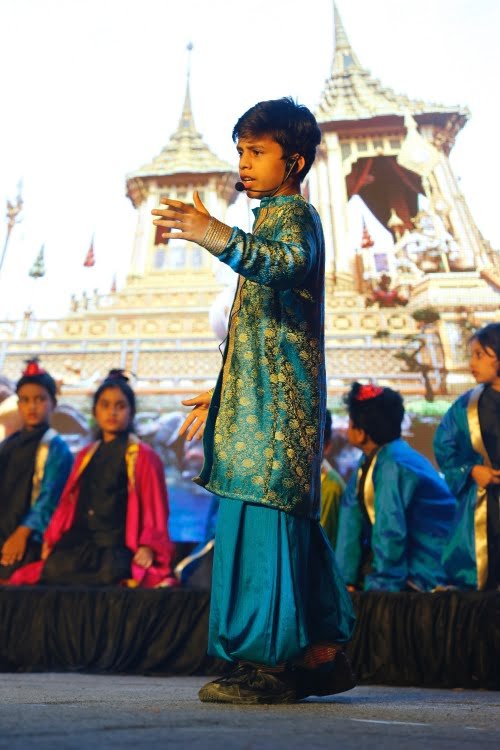 Only the Best of International School Education
@ Silver Oaks International School Visakhapatnam
Silver Oaks International School Visakhapatnam partners with IB & CBSE (Central Board of Secondary Education) by providing IB methodology of teaching till Grade 6 as a part of IB- PYP (Primary Years Programme) and CBSE (Central Board of Secondary Education) from Grade 7-10.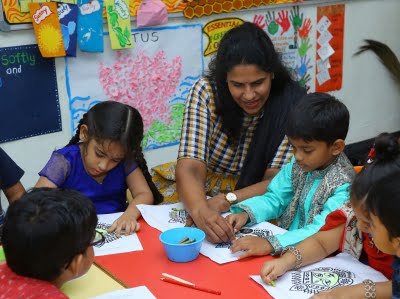 IB PYP - PP1 to Grade 6
 
The International Baccalaureate Primary Years Program aims to develop students who are lifelong learners and demonstrate respect for themselves and others. It emphasizes the holistic development of the student.
Silver Oaks International School is the first school to offer IB PYP at Visakhapatnam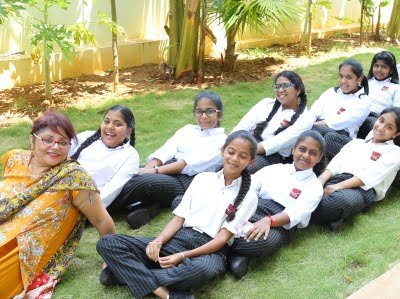 ISAP - Grade 7 to Grade 8
We redefine the teaching learning process at the middle school level, to raise the standards of the students' conceptual understanding and also to sustain the inquisitive minds and energies of the students who have done their PYP till grade-6, the Intellectually Stimulating Academic Programme [ISAP] was started in the year 2012 with thematic teaching and now it has gradually evolved to design model teaching.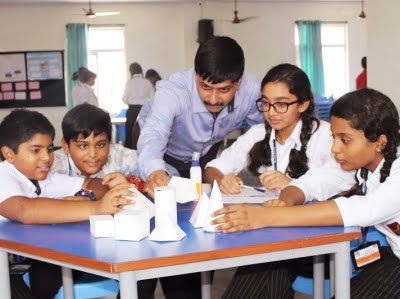 CBSE - Grade 9 to Grade 10
CBSE Curriculum
The Acorn enters the Senior Wing with PYP Learner Profile and Stimulated intellectually in the ISAP wing. At this stage we continue to consistently build the leadership qualities in the acorn to face the bigger world.
We reinforce the "7 Habits of Highly Effective People" by Steven Covey.
Without deviating from the CBSE curriculum, the Design Models are planned to be student centric. 
Facilities
Silver Oaks International School Visakhapatnam, Andhra Pradesh offers facilities that encourage & ensure cognitive (knowledge), psycho-motor (skills) & affective (attitude) learning. The school also has an array of co-curricular activities and extra-curricular activities that help students unleash their creativity and build leadership skills. Our classrooms and open spaces are designed to support our students in all three domains (cognitive, psycho-motor & affective). Moreover, we provide a range of other modern  facilities for sensory, emotional, intellectual and creative enrichment, which contribute to the child's holistic development and learning experience.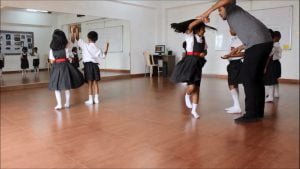 Dance
Dance is an integral part of any child's development and growth. It encourages self-expression, creativity, physical fitness, and an appreciation for the arts. The best international school in Vizag offers various dance classes for their students. These classes range from classical ballet to folk, modern, and hip-hop styles. Additionally, Silver Oaks International school Visakhapatnam provides performance opportunities such as competitions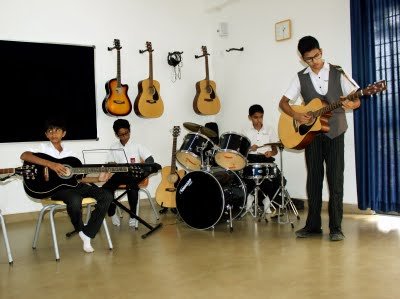 Music
Like any top-notch international schools world over, At Silver Oaks International School in Visakhapatnam, music takes center stage! It's not just a mere subject, it's a dynamic platform that allows students to unleash their boundless creativity and elevate the spirits of all those who come into contact with it.
Discover the best of both worlds at Silver Oaks International School Vizag – exceptional education and a comprehensive music program! Students can explore the magical melodies of classical, jazz, instrumental, and more. Join us for a symphony of learning and growth.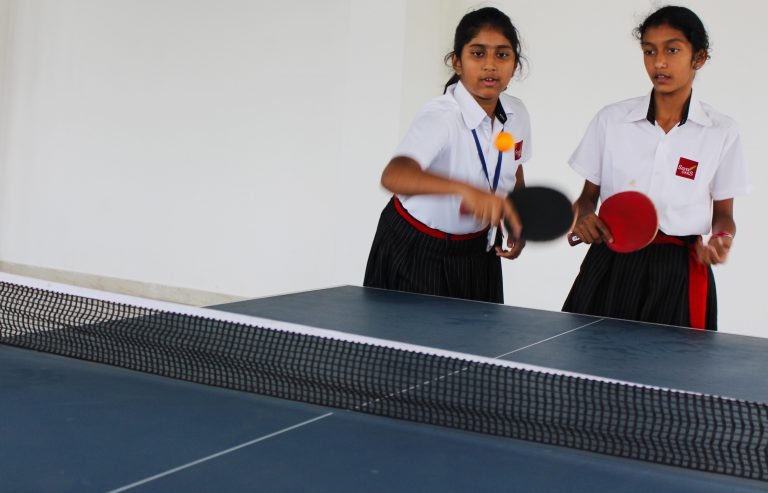 Table tennis
Ready to play? Table tennis is the ultimate sport that anyone can enjoy, and it's taking the best international schools scene by storm! Get ready to smash your way to victory at Silver Oaks International School Visakhapatnam, the perfect place to sharpen your skills and challenge the best.
Get ready to serve up some serious fun with Table Tennis at Silver Oaks International School Vizag- it's a game that never stops!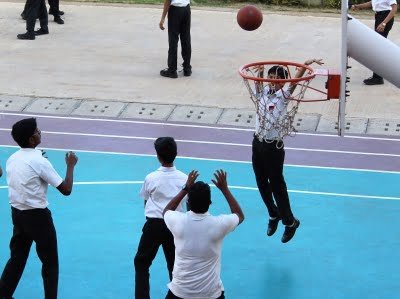 Basketball
Looking for a sport that's fun and gets your heart pumping? Look no further than basketball! At Silver Oaks International School Andhra Pradesh, we've built a top-notch basketball court with plenty of space for you to show off your skills and push yourself to the limit. Our expert coaches are here to help you perfect everything from shooting to passing to defense. Our coaches mission? To help you unlock your full potential on the court! So come on over to Silver Oaks International School Vizag and let's shoot some hoops!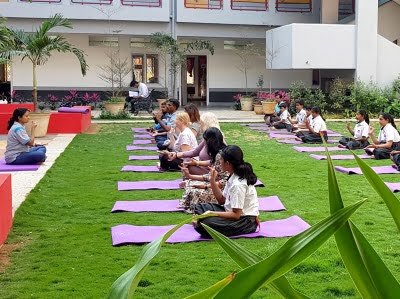 Yoga
Are you searching for the finest international schools in India? Your search ends here with Silver Oaks International School in Vizag, Andhra Pradesh! Our school is not only dedicated to providing exceptional education but also offers a wide range of enriching extracurricular activities. And guess what? Yoga is the latest trend! This time-honored practice has stood the test of time and brings immense benefits to your body, mind, and soul. Imagine enrolling in a school with an incredible yoga program and experiencing ultimate serenity. Embrace the opportunity and embark on a journey of self-discovery at our school. You won't be disappointed!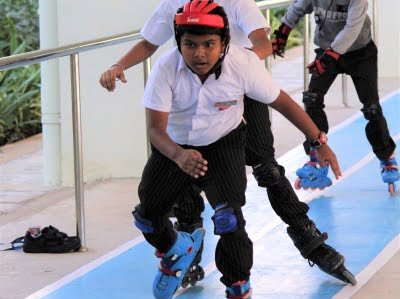 Skating
Get ready to skate your way into happiness! Skating is a fun and thrilling activity enjoyed by people all over the world, especially among students in the best international schools in Vizag, Andhra Pradesh. Not only does it help build balance and coordination, but it also improves your overall fitness levels and mental health. And guess what? Most international schools in Vizag like Silver Oaks have their own skating rinks, so you can glide your way to success every day!
Tennis
Tennis is a suitable sport for students at international schools in Vizag. Players of all ages and abilities can enjoy it, making it an ideal choice for children. Tennis promotes physical fitness, mental sharpness, sportsmanship development and academic performance. Silver Oaks international schools in Vizag have on-campus tennis courts, with professional coaches available for guidance.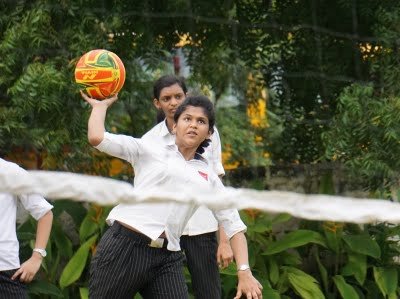 VolleyBall & Throwball
Volleyball and throwball are commonly played team sports in schools worldwide. These sports promote physical fitness, enhance skills and play a crucial role in teamwork, communication, problem-solving, and coping with success and failure. At Silver Oaks international schools in Vizag, Andhra Pradesh, volleyball is a popular recreational activity.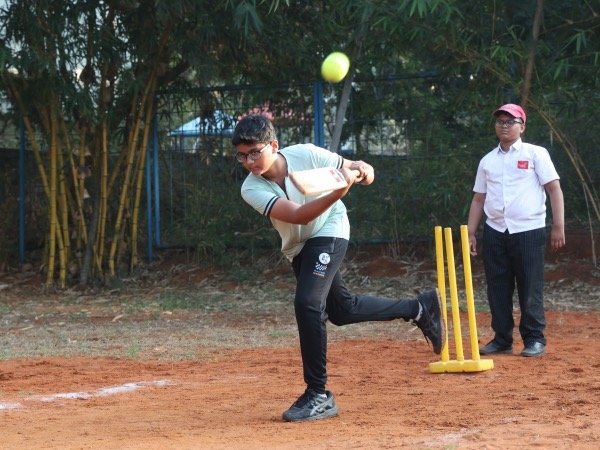 Cricket
Calling all cricket enthusiasts! Vizag boasts a thriving cricket scene, with top international schools like Silver Oaks International School, Visakhapatnam, Andhra Pradesh providing unrivaled coaching facilities. Picture well-manicured pitches, expert coaches, and exciting tournaments that showcase students' impressive fielding and batting skills. So if you're looking to take your cricket game to the next level, Silver Oaks is the place to be!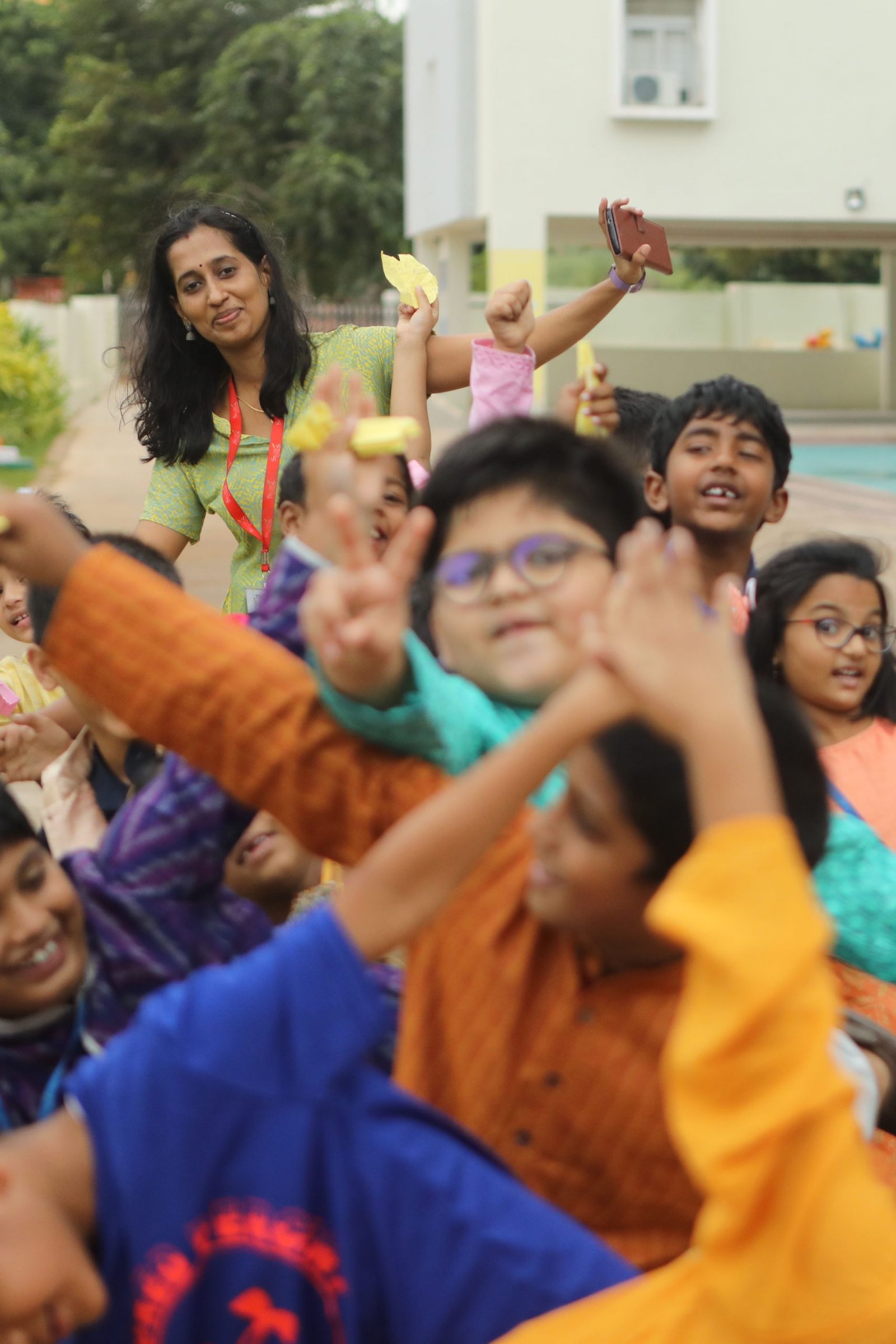 Update: Due to overwhelming applications, admissions are closed for PP2, Grade1 to Grade9 for the 2024- 2025 academic year.
Our International School at Rushikonda, Visakhapatnam, Andhra Pradesh has nurtured a flourishing environment for holistic education over the past half-decade. Due to limited vacancy, we welcome eager learners in grades PP1, and Grade1 with open wings!
We're keeping it in the family! Our limited spots for the 24-25 session will first go to recommendations from our beloved parents and staff before we welcome any newbies.
Our Admissions Committee at Visakhapatnam is made up of the Principal and the Pedagogical Leadership Team, and is dedicated to making the best decisions for our students. Once you've completed your interaction session, we strive to give you a response within a week, with the Principal having the final say. Don't worry, if we need any more information, we'll follow up with you!
If you're still seeking admission, please consider our nearby Kommadi campus, just a short distance away. Feel free to reach out to the Kommadi campus admission manager at +91-7799-735-999 for assistance or whatsapp her using the following link.
1. Enquiry Form
Parent needs to fill the enquiry form
Optional: The existing parent / staff needs to send an email to admissions@vizag.silveroaks.co.in with the prospective student and parent contact details including email id and mobile number. (The details need to match the enquiry form)
On reciept of enquiry, our admission team will send an email with the orientation details.
2. School Tour & Induction Programme
School Tour
After the Virtual School Tour and brief presentation on the school, interested parents may seek more information from school ambassadors.
If interested they may fill the online application form and complete the submission with required documents on the same day or within the given date.
The objective behind the Induction program is to understand the Grade Level Readiness and prior knowledge of the child.
The results of the Induction Program (PP2 & above) will be intimated through phone within a week.
3. Age Criteria & Documents Required
Admission Forms:
Admission Forms (online or physical) will be issued by the admission manager on succesful completion of the school tour & induction programme

Age Criteria: 
| | |
| --- | --- |
| Grade | NEP Recommended Age as on 1st June '24 |
| PP 1 | 4 Years+ |
| PP 2 | 5 Years+ |
| Grade 1 | 6 Years+ |
| Grade 2 | 7 Years+ |
| Grade 3 | 8 Years+ |
| Grade 4 | 9 Years+ |
| Grade 5 | 10 Years+ |
| Grade 6 | 11 Years+ |
| Grade 7 | 12 Years+ |
| Grade 8 | 13 Years+ |
| Grade 9 | 14 Years+ |
| Grade 10 | 15 Years+ |
Required Documents for Admission Process:
Photocopy of the birth certificate.
2 latest passport size photos of the child and one each of the parents.
Photocopy Adhaar Card of Students and parents if available.
In case of admissions to PP2 to Grade 9 photocopy of the academic record of the current class.
Transfer Certificate to be submitted in the month of June (for grade 2 & above, candidates from other states should get the TC counter signed by the CBSE/Respective board)
4. Personal Interaction & Admission Confirmation
Interaction with the parents is to see the alignment between parents' expectations and schools' programmes, therefore, it is essential that both parents and child appear for the Personal Interaction.
The admissions for all the grades will be confirmed within one week of the Personal Interaction through phone/email. After the admission confirmation, you should complete the fee formalities within a week of the confirmation call.
This is a one time fee, refunded at the time of student leaving the school.
     P1 & PP2 – ₹ 40,000
Grade 1 – 10 – ₹ 52,750
Payable for 3 terms in an academic year
To be paid at the time of admission,  August and  December
*Fee Hike of 10% can be expected every year
Transport Fee (Optional)
(per Term)
Payable for 3 terms in an academic year
To be paid at the time of admission,  August and  December
*Fee Hike of 10% can be expected every year
Lunch Fee (Optional)
(per Term)
Payable for 3 terms in an academic year
To be paid at the time of admission,  August and  December.
Includes Breakfast (9 AM), Lunch (12 PM) and Snacks (2 PM)
*Fee Hike of 10% can be expected every year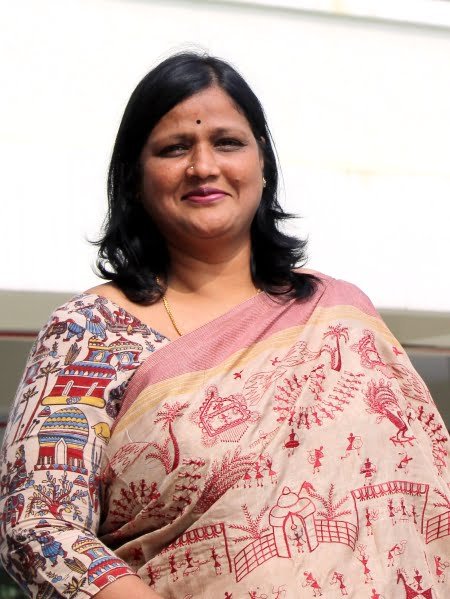 Sunitha has the unique credit of being the member of Silver Oaks Hyderabad since it's inception. Personally monitoring and leveraging the learning program of nearly 800 children and teaching program of 45 teachers, Sunitha comes as a committed educator and diligent leader.
With diligence and attention for detail, year after year she mentors students to achieve their full potential.
Regularly attends training programs on CBSE (Central Board of Secondary Education) approach and curriculum models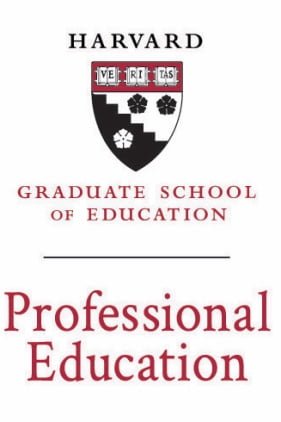 Courses in "Teaching and Learning" and "Creating Cultures of Thinking" to create enriching experiences in the school.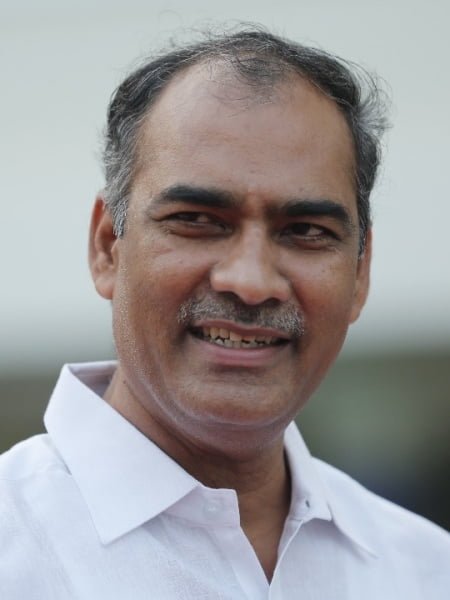 Dr. P Sreenivasa Rao
Director

Eman is well taken care of. The pace in which the social skills and other activities are trained is good. The feed backs are given on time. Very happy with the teachers and school. I see my child very much attached to the teachers.
Safeer Ahamed
(Mother)
Visakhapatnam

I 'm extremely happy with the overall development that the school provides. It is very important that we make a responsible citizen and that is what the school is up to.
K N Saritha
Visakhapatnam

"School with a difference"
It is the first school with a difference in Vizag. It shows all what they speak about through action. Happy students, happy staff and of course happy parents.
Mohammed Siraj
Visakhapatnam

"Amazing and excellent atmosphere of learning and leadership in the management and in the young students. Kudos to Silver Oaks intl school. Spiritual excellence and academic excellence can transform the youth into enlightened citizens."
Swami Bhodhamayananda
Director of Human Excellence Center
Ramakrishna Math
Visakhapatnam
Our News, Events & Articles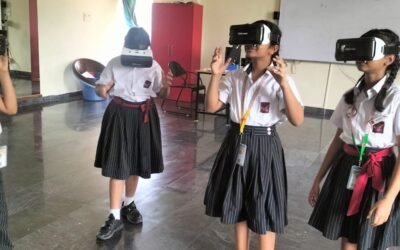 By incorporating virtual reality, Silver Oaks has embraced the potential of VR as a powerful pedagogical tool that aligns with its progressive and constructivist curriculum. Students can connect with the content in a more meaningful way, fostering deeper comprehension and retention.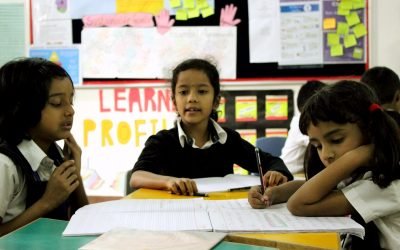 Selecting the right school for your child is a decision that can have a profound impact on their future. As parents, we want nothing but the best for our children, and finding the perfect school plays a crucial role in shaping their academic journey and personal...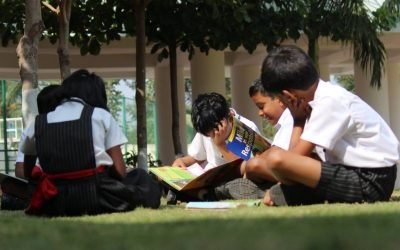 Originated in 1968, the IB programme was founded by the International Baccalaureate Organisation in Geneva, Switzerland. It is a non-profit educational organisation that offers excellent quality programs for children in the age group of 3-19 years. Discover IB - In...
What prospective parents are asking us ?
Welcome to the ultimate source of answers to all your questions about our school! Our FAQ section has got you covered with a wide range of comprehensive and quick responses to your frequently asked inquiries. Want to know about admission procedures, academic programs, curricular activities, extracurricular activities, or anything else? You're in the right place! We've compiled all the information you need to clearly understand our school's policies, practices, and offerings. And if you can't find the answer you're searching for, don't worry! Just reach out to us, and we'll be more than delighted to assist you.
What is the number of students per class?
25 Students per class for all grades
What is the most popular international school curriculum?
The International Baccalaureate (IB) program is the most popular international school curriculum. This globally-recognized education program offers courses designed to prepare students for a successful university experience and life beyond. The IB curriculum is based on inquiry-based learning, and it incorporates elements from a variety of cultures, focusing on global understanding and intercultural exploration. It also emphasizes critical thinking, communication skills, and creative problem-solving.
Why choose IB over IGCSE?
The International Baccalaureate (IB) is an international educational curriculum, designed to provide students with a well-rounded education that prepares them for life beyond the classroom. The IB program takes a holistic approach to education, focusing on developing students' intellectual, personal, emotional and social skills. This is in contrast to the more academically focused IGCSE program which primarily focuses on studying for examinations. Therefore, the IB program is a better option for students looking for a more comprehensive education that includes creativity and critical thinking.
The International Baccalaureate (IB) program at Silver Oaks School in Rushikonda, Visakhapatnam is a unique and innovative approach to education. Its core focuses on developing students' individual skills and abilities rather than simply teaching to the test. The IB program provides an integrated curriculum of core subjects such as language arts, mathematics, science, history and geography with additional electives that are tailored to students' individual goals and interests. With its commitment to excellence, Silver Oaks is the best choice for an IB school in Rushikonda, Visakhapatnam.
How to choose the best school for your kid?
Choosing the right school for your child can be a difficult and daunting task. As parents, you want to make sure that you select the best educational environment for your child's growth and development. When looking for an ideal school, there are many factors to consider, such as location, curriculum, extracurricular activities, and teacher qualifications. Here are some tips to help you choose the best school for your kid:
1. Research and visit schools: It's important to research and visit prospective schools in order to get a better understanding of the school environment, curriculum, and staff. Be sure to ask questions about what classes are offered and what type of extracurricular activities are available.
2. Read reviews: Do some research online and read reviews about the school you're considering. This will give you an insight into what other parents and students think about the school.
3. Consider your child's needs: When selecting a school, it's important to consider your child's individual academic, social, and emotional needs. Be sure to ask yourself whether or not this particular school is the right fit for your child.
Silver Oaks School in Vizag is a leading international school offering the IB program. With its high-quality academic programs, excellent teachers and staff, and engaging extracurricular activities, Silver Oaks School is an ideal choice for families looking for the best international school in Vizag.
When are admission forms issued?
Admission forms are issued during the admission process after the school tour and induction programme. If you want to explore Silver Oaks for your child, please submit the online enquiry form to begin the admission process. For admission guidelines, please refer to the admission procedure section above.
When do admissions start?
PP1 and Grade 1 Admissions for the 24-25 academic year start tentatively in October 2024. Admissions into all other grades based on vacancy from February 2024. Please fill out the enquiry form, and we will revert you with the admission start dates at a later date.
What facilities are offered at Silver Oaks Rushikonda Campus, Andhra Pradesh ?
Silver Oaks Rushikonda Campus, Andhra Pradesh, is one of the best international schools in Vizag. It provides world-class infrastructure and a range of sports facilities, art infrastructure and labs to ensure an excellent learning experience for its students.
The school also offers a range of extra curriculum activities such as weekend clubs, robotics and other life skills programmes to foster problem-solving skills in children.
Silver Oaks Rushikonda Campus, Andhra Pradesh, also provides an excellent learning experience with its activities for students that contribute towards academic achievements and 21st century careers. The teachers are highly qualified and experienced in imparting world-class education while forming strong character development in all students. With all these facilities, it is no surprise that Silver Oaks Rushikonda Campus, Andhra Pradesh, is considered the best international school in Vizag.
To learn more about the facilities, please plan for a school tour or visit in person.
Hours of Operation @Visakhapatnam
MON – FRI
8:30AM to 3:30PM

SAT (1,3 and 5 week of a month)
8:30AM to 3:30PM
Office and Senior School

Drop Us a Line
Don't be shy. Let us know if you have any questions!
| | |
| --- | --- |
| General Queries | Info@vizag.silveroaks.co.in |
| Admissions | Admissions@vizag.silveroaks.co.in |
| HR | HR@vizag.silveroaks.co.in |
| Finance & Accounting | Accounts@vizag.silveroaks.co.in |
Phone Numbers for Rushikonda, Visakhapatnam campus
General Enquiries: 040-482-10007 / 020-711-77788
Front Office: +91-7661-978-999
Admissions: 020-711-77766, 07949107080, +91-799-799-8014
Toll-Free: 1800 202 5099
Registered School Name: SILVEROAKS HIGH SCHOOL
CBSE Affiliation Number: 130494
Address:
C/o Silver Oaks International School,
D.No. 7-19/1 Rushikonda(v) Yendada Road,
Beside GITAM medical collg, Rushikonda
Visakhapatnam – 530045
Andhra Pradesh